The simple goodness of lamb and roast vegetables in a hearty stew is an old-fashioned favorite.(Serves 6)
2 lbs. boneless shoulder of lamb, in 1 1/2 inch cubes
2 tablespoons shortening
2 cups boiling water
1 cup 1/2 inch carrot slices
1 cup cubed white turnip
1 potato, peeled and cubed
1 onion, sliced
Salt and freshly ground pepper
Take care to trim off most of the lamb fat. Melt the shortening in a heavy pot, add the lamb cubes and brown them well on all sides. Carefully pour the boiling water over the lamb -- it might spatter. Cover and simmer for 1 hour. Add the carrots, turnip, potato, onion and salt and pepper to taste. Cover and simmer 30 minutes more. Taste, correct seasoning, and serve.
Buttermilk Biscuits and Honey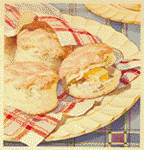 Golden and crusty outside, moist and fine-textured inside (16 Biscuits)
2 cups flour
1/2 teaspoon salt
2 teaspoons baking powder
1/2 teaspoon baking soda
1 tablespoon sugar
1/2 cup vegetable shortening
2/3 cup buttermilk
Preheat the oven to 425 degreesF. Grease two 8 inch cake pans. Put the flour, salt, baking powder, baking soda, and sugar in a bowl. Cut the shortening into the flour with 2 knives or a pastry blender until th mixture resembles coarse meal. Add the buttermilk all at once and stir just until the dough forms a ball around the fork. Turn the dough onto a lightly floured board and knead 14 times. Pat until 1/2 inch thick. Cut into rounds with a 2 inch cookie cutter. Place touching each other in the cake pans and bake for 15-20 minutes.
Simple and homey, apple pie is the quintessential American dessert. This pie is especially good served warm with a wedge of Cheddar cheese or a spoonful of whipped cream.(One 9-inch pie)
Basic Pastry dough for a 9-inch two-crust pie 3/4-1 cup sugar
1/2 teaspoon salt
1 teaspoon cinnamon
1/2 teaspoon nutmeg
1 1/2 tablespoons flour
6-8 large, firm, tart apples (about 10 cups)
2 tablespoons butter
Preheat the oven to 425 degees F. Line a pie pan with half the pastry dough. Mix the sugar, salt, cinnamon, nutmeg, and flour in a large bowl. Peel, core and slice the apples and toss them in the sugar mixture, coating them well. Pile them into the lined pan and dot with the butter. Roll out the top crust and drape it over the pie. Crimp the edges and cut several vents in the top (or do as Judy does and make a design!) Bake 10 minutes, then lower the heat to 350 degrees F and bake 30-40 minutes more until the apples are tender when pierced with a skewer and the crust is browned.
Back to the Judy Bolton Online Cookbook