The Judy Bolton books, written by Margaret Sutton (1903-2001), were a popular girls mystery series. The first 4 volumes were published in 1932 by Grosset and Dunlap. The series continued until 1967 and consisted of 38 volumes. Each book was "based on something that actually happened" and many were also based on real life sites. More than 4 million copies were sold, and the books are still popular among collectors such as the Phantom Friends. Fortunately, the entire Judy Bolton mystery series has been republished by Applewood Books. The 39th book in the series, "The Strange Likeness," which Margaret Sutton started but never finished, was written by Kate Duvall and Beverly Hatfield and published in 2012. It brings the series to a happy ending. In 2018 a wonderful new Judy Bolton set mid-series, The Mystery on Judy Lane written by Beverly Hatfield was published with the permission of Margaret Sutton's family!
NEWS
Join us for the 2022 Judy Bolton Festivities!
Our conference hotel is the Westgate Inn, 307 US-6, Coudersport, PA 16915. For reservations call 814-274-0400.
Thursday, October 6
6:30 PM | Arriving early? Meet in the Westgate Inn lobby, then enjoy a casual dinner followed by open mic music at Olga's Café in Coudersport.
Friday, October 7
8:00 AM | Breakfast and socializing in the Westgate Inn lobby.
10:30 AM-3 PM | Fall foliage is at its peak in early October! Have fun exploring this charming little town. Lunch on your own. The Potter County Historical Society Museum, 308 N. Main St., Coudersport, will have a special display of items of interest to Judy Bolton fans.
3:00 PM | Meet and greet reception and book signing, Eliot Ness Museum, 201 N. Main St. Coudersport. Wine and cheese reception courtesy of the Coudersport Area Chamber of Commerce. Enjoy the museum's wonderful Judy Bolton exhibit. Book signing of "Letters To Live By" with Lindsay Stroh. This delightful children's book was written by Margaret Sutton and her daughters, Lindsay Stroh and Marjorie Eckstein. Reserve your copy by emailing MargaretSuttonBooks@gmail.com. Buy tickets at the reception for lunch ($5) during the Saturday tour.
6:30 PM | Farmer's Delight Dinner at a 19th century historic farmhouse built by Margaret Sutton's grandfather, $14, advance reservation requested by October 5. Call Ilene Altenheim at 814-274-9798 with your name, phone, and number of people attending. Pay at the door.
8:30-10:00 PM | Join us in the Westgate Inn lobby for socializing and series book sales.
Saturday, October 8
Tour for Judy Bolton fans. Meet in the Westgate lobby at 9 AM to carpool. Tour details are being arranged, and a schedule will be available in the lobby. Past tours have included sites that inspired settings in the Judy Bolton mysteries including the former home of Judge Lewis (Farringdon-Pett mansion), the birthplace of Margaret Sutton (Dry Brook Hollow), the Austin Dam Memorial Park and E.O. Austin Museum (Roulsville), the Parker Tomb (Trail of the Green Doll and the Haunted Road.)
5:00 PM | Dinner, series book sales and evening activities at Kaytee's Family Restaurant, 251 U.S. Route 6, Coudersport. (This is a short walk from the Westgate Inn.)
6:30 PM | Award Ceremony at Kaytee's for the winners of the 2022 Margaret Sutton Writing Contest. Potter County students in grades 7-9 have been invited to submit a short story! Join our panel of judges as the finalists read their stories and receive their awards. View the contest rules (PDF)
7:15 PM The Annual Judy Bolton Trivia Contest at Kaytee's about The Black Cat's Clue.
Sunday, October 9
If you are staying at the Westgate Inn, enjoy the complimentary breakfast and a last chance to visit with Judy Bolton fans.
*THANK YOU to the following individuals and organizations for your support!
The family of Margaret Sutton, The Eliot Ness Museum, the Coudersport Area Chamber of Commerce, Judy Bolton Weekend Committee members: Lindsay Stroh, Peg Rotello, Ilene Altenheim, and Steve Green; Website designer: Christine Kilger; Margaret Sutton Writing Contest Judges: Beverly Capone, Linda Joy Singleton, James Keeline, Kim Keeline and Roni Denholtz; Trivia Contest: Rachelle Lerner; Writing Contest Sponsors: (to be added soon)
Letters To Live By Now Available
LETTERS TO LIVE BY, a children's book by Margaret Sutton and her daughters Marjorie Eckstein and Lindsay Stroh, has just been published! Visit www.MargaretSuttonBooks.com for information on how to order this delightful book. A link to a free Discussion and Activity Guide is included.

The Talking Snowman, Second Edition Available Now
Prolific author Linda Joy Singleton is the author of over 50 middle-grade, YA and picture books! A lifelong lover of childrens series books, a fan letter she wrote at age 14 led to a life-long friendship with author, Margaret Sutton. This friendship eventually resulted in The Talking Snowman which was co-written by Margaret Sutton and Linda Joy Singleton. The book fits between books #3 and #4 in the Judy Bolton series and is numbered #3 1/2. The first print run sold out and had a solid blue cover with outline of a snowman. This second edition has cover art by Judy Bolton fan Lisa Kucharski. It's a paperback and includes a map drawn by Margaret Sutton, a foreword by Linda Joy Singleton, and a bonus short story.
To order The Talking Snowman, send a check or US cash for $12 (includes US postage only) to:
Linda Singleton
P.O. Box 155
Burson, CA 95225
If you want it autographed by LJS include a note with details.
If you have any questions email: ljscheer@yahoo.com. You can read more about Linda Joy Singleton on her website.
ONE LAST STEP (A Tara Mills Mystery—Book One) is the debut novel in a new FBI mystery series by debut author Sarah Sutton the great-granddaughter of Margaret Sutton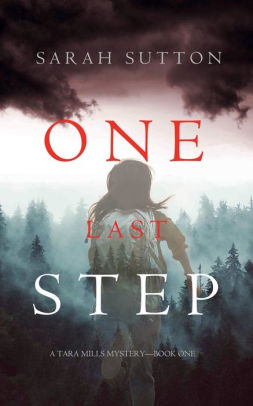 Debut author Sarah Sutton is the great granddaughter of Margaret Sutton and has followed in that tradition with her release of the TARA MILLS mystery series, which includes ONE LAST STEP (Book #1) and ONE LAST BREATH (Book #2). Sarah has always been fascinated by the mystery genre and loves to write suspenseful books with complex characters.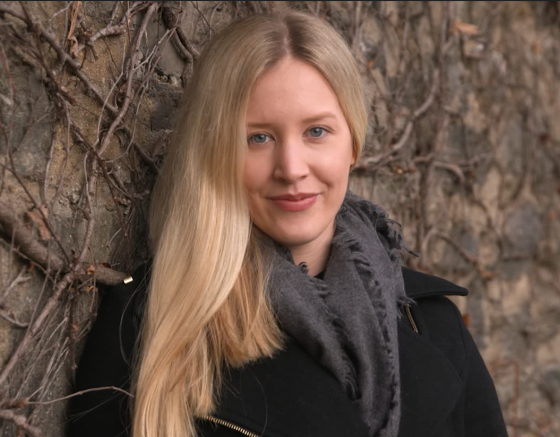 The book is available on all major outlets including Amazon
For more information on the series, go to the author's website at www.sarahsutton.com
Literary Legends of the PA Wilds: Margaret Sutton and Judy Bolton
A great article on Potter County author Margaret Sutton was published January 28, 2019 on the Pennsylvania Wilds website!
The Mystery on Judy Lane by Beverly Hatfield — available this fall on Amazon.
UPDATED: Now Available on Amazon
Judy Bolton loves solving mysteries, and this Christmas brings her a new puzzle to solve. She is newly engaged to lawyer Peter Dobbs and wants the perfect present for him. But a mysterious eavesdropper, threatening phone calls and broken windows on Judy Lane convince Judy, Peter, and their families that the danger is real. Judy will need bravery and ingenuity to solve the mystery in time for everyone to have a Merry Christmas. Margaret Sutton was the creator and author of The Judy Bolton Mystery series from 1932 to 1967. With the permission of Margaret Sutton's family, Beverly Hatfield brings us this new Christmas story. Foreword by Margaret Sutton's daughter, Lindsay Sutton Stroh.
Author Bio Beverly Hatfield is the co-author of the 2012 Judy Bolton Mystery, The Strange Likeness. As a child, she devoured Judy Bolton mysteries and wished Margaret Sutton had written more books set during the time period when Judy was engaged. Ms. Hatfield decided to fill that gap by setting this book between Margaret Sutton's The Name on the Bracelet and The Clue in the Patchwork Quilt. As an adult, Ms. Hatfield visited the towns and homes in Potter County, Pennsylvania where Margaret Sutton lived and used as her inspiration. Ms. Hatfield enjoys the friendship she has with other Judy Bolton fans and is grateful to share Judy's newest adventure with them. Meet Beverly and get her autograph at Judy Bolton Days 2018 in Pennsylvania!
New: 3 Watercolor Illustrated Cards
By Margaret Sutton
5 X 7 each, suitable for framing
These three color illustrations (1930-31) were done to illustrate the proposed Melissa series, which eventually became the Judy Bolton Mysteries. Rachel Beebe Sutton, the author, who was raised in Potter County, Pennsylvania, was given a pen name, Margaret Sutton, by the publishers. The author also changed blonde Melissa into auburn-haired Judy Bolton, and the rest is history!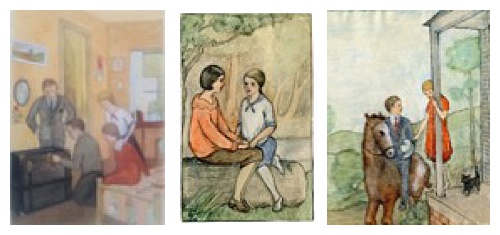 $3 per set of 3 (5 X 7) cards
Add $2 for shipping and handling (USA & Canada)
Payable to Lindsay Stroh, 953 Courtyard Lane, #41
Orlando, FL 32825
Or PayPal to strohlin19@gmail.com
Please note that the picture of Peter with the trunk is brighter than shown.
THE STRANGE LIKENESS, #39 in the Judy Bolton series is available!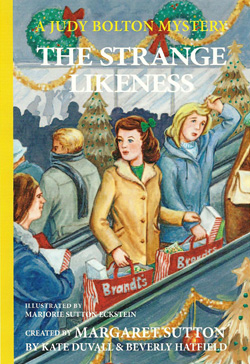 The title and some of the plot elements were created by Margaret Sutton before the series was canceled. Based on conversations with Margaret Sutton and her family plus extensive research, coauthors Kate Duvall and Beverly Hatfield were able to create a new mystery for Judy to solve as she pursues a criminal who resembles her husband.
The book is illustrated by Margaret Sutton's daughter, Marjorie Sutton Eckstein, and edited by another daughter, Lindsay Sutton Stroh. The release of the book was celebrated in Margaret Sutton's hometown, Coudersport, Pennsylvania, during the annual Judy Bolton Days, October 5-6, 2012.
The book has been published in paperback ($14.95) by Applewood Books. A limited number of hardbacks (250 copies) were also available ($24.95). To order your copies, call Applewood Books at 1-800-277-5312 or visit www.applewoodbooks.com.

All 38 Judy Bolton Titles Available from Applewood books!
All 38 of the Judy Bolton Mysteries by Margaret Sutton are now available in paperback from Applewood books. They were laser copied from the first editions of each book, courtesy of the author's family.
Look for them at your favorite bookstore! You can also purchase them on Amazon.com.