2013 Judy Bolton Weekend
October 11-13 in Coudersport, Pennsylvania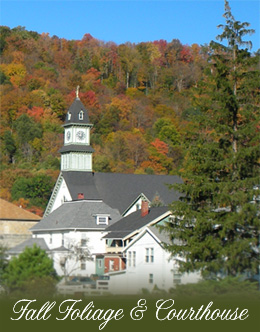 Since 1991, fans have gathered in picturesque Potter County to explore the real life sites that served as inspiration for the Judy Bolton Mystery Series, to discuss the books, and to honor the author, Margaret Sutton (1903-2001). The author was born Rachel Beebe and raised in Odin and Coudersport, Pennsylvania. This year, the Judy Bolton weekend activities include:

Friday, October 11
4:00 PM - Coudersport Area Chamber of Commerce, 6 East Second Street, Coudersport, PA 16915, sponsors a reception with appetizers honoring the memory of Margaret Sutton and her Judy Bolton books. Buy tickets here for lunch during the Saturday tour.
6:30 PM - Farmer's Delight Dinner at a historic farmhouse built by Margaret Sutton's father and grandfather, $12, paid advance reservation preferred. Send check payable to Ilene Altenheim, 18 McLatchie Hollow Road, Mina, PA 16915 by October 4, 2013. Please write "Judy Bolton dinner" on your check.
8:30 PM – Westgate Motel media/conference room, 307 Route 6 West, Coudersport, PA 16915. Activities include series book sales, an overview of this year's featured book, "THE CLUE IN THE PATCHWORK QUILT," and presentation of the Susabella Passengers and Friends 2013 Margaret Sutton Writer's Award.

Saturday, October 12
9:00 AM-3:30 PM - Tour of the real Judy Bolton sites. Peg and John Rotello direct this tour which includes lunch at the Austin School where the students created a Judy Bolton mural. Bring your cameras! See the sites that inspired the series locales such as the dam, the Farringdon-Pett mansion, the house at Dry Brook Hollow and much more. This is the perfect time to enjoy Potter County's fall foliage!
6:00 PM –Dinner at the Odin Grange $14. Reservations needed. 814-647-8441.
8:00 PM - Westgate Inn Conference/Media Room. Series book sales and the Annual Judy Bolton Trivia Contest about "THE CLUE IN THE PATCHWORK QUILT." Laughter guaranteed!

Sunday, October 13
If you are staying at the Westgate Inn, enjoy the complimentary breakfast and a last chance to visit with Judy Bolton fans.
For reservations at the Westgate Inn, call early (814) 274-0400 www.westgateinn.net

THE STRANGE LIKENESS, #39 in the Judy Bolton series, will be available soon!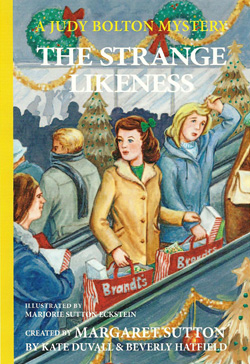 The title and some of the plot elements were created by Margaret Sutton before the series was cancelled. Based on conversations with Margaret Sutton and her family plus extensive research, coauthors Kate Duvall and Beverly Hatfield were able to expand the original plot, re-creating the magic of Judy and her friends as they pursue a criminal who resembles Judy's husband. The book is illustrated by Margaret Sutton's daughter, Marjorie Sutton Eckstein, and edited by another daughter, Lindsay Sutton Stroh. The release of the book will be celebrated in Margaret Sutton's hometown, Coudersport, Pennsylvania, during the annual Judy Bolton Days, October 5-6, 2012. Come meet the coauthors!
The book will be published in paperback ($14.95), and a limited (250 copies) hardback with picture cover ($24.95) will also be available. To order your copies, call Applewood Books at 1-800-277-5312. If you are coming to Judy Bolton Days, ask that your book be shipped to Lindsay Stroh in Coudersport so you can get autographs!

Poet Finds Inspiration from Judy Bolton Series BookTitles
Kathryn T. S. Bass is a poet, and her third book, the Mysteries, was released in 2011 to critical acclaim. She uses many of Margaret Sutton's titles to title her poems in the book.
You can learn more about the book here: http://www.kadroodle.com/poetry/book/

All 38 Judy Bolton Titles Available from Applewood books!
All 38 of the Judy Bolton Mysteries by Margaret Sutton are now available in paperback from Applewood books. They were laser copied from the first editions of each book, courtesy of the author's family.
Look for them at your favorite bookstore! You can also purchase them on Amazon.com.

Memories of Margaret Sutton and the Judy Bolton Mysteries
University of Minnesota Children's Literature Research Library on August 10, 2011. You can listen as they share their memories of actual events that inspired the Judy Bolton mysteries by going to the following link: http://bit.ly/oGu8RV
MELISSA OF DRY BOOK HOLLOW or The Great Roulsville Flood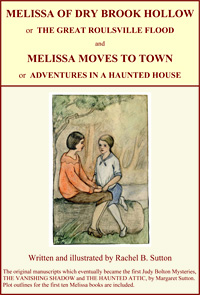 Thus begins the manuscript which was submitted to publishers by Rachel B. Sutton along with a second manuscript, MELISSA MOVES TO TOWN or Adventures in a Haunted House (published as The Haunted Attic). Both the main character and the author were renamed, and Margaret Sutton's Judy Bolton Mystery series went on to become the longest lasting juvenile mystery series by an individual author.
The fragile pages of these two yellowed manuscripts, including handwritten revisions, have been copied and are now being bound into one volume and offered for sale by the author's family...
The volume containing both manuscripts will be printed in March 2011 based on pre-paid orders. To order, send $25 ($20 + $5 S&H to USA before February 28, 2011 to:
Lindsay Stroh, 311 Stafford Drive, Catonsville, MD 21228
Margaret Sutton Artwork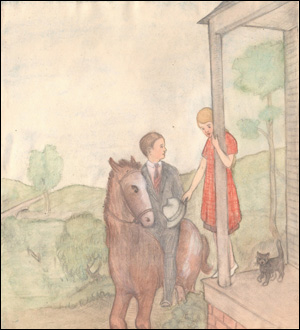 To view or order more of Margaret Sutton's artwork, click here.