The Judy Bolton books, written by Margaret Sutton (1903-2001), were a popular girls mystery series. The first 4 volumes were published in 1932 by Grosset and Dunlap. The series continued until 1967 and consisted of 38 volumes. Each book was "based on something that actually happened" and many were also based on real life sites. More than 4 million copies were sold, and the books are still popular among collectors such as the Phantom Friends. Fortunately, the entire Judy Bolton mystery series has been republished by Applewood Books. The 39th book in the series, "The Strange Likeness," which Margaret Sutton started but never finished, was written by Kate Duvall and Beverly Hatfield and published in 2012 It brings the series to a happy ending!

NEWS


Join Us for the 2019 Judy Bolton Weekend!
October 10-13 in Coudersport, Pennsylvania
Conference Center: The Westgate Inn
The Westgate Inn (814) 274-0400 has a block of rooms is reserved for Judy Bolton fans until August 31 only, so please make your reservations early and mention the "Judy Bolton Weekend" when calling.
Since 1991, fans have gathered in picturesque Potter County to explore the real life sites that served as inspiration for the Judy Bolton Mystery Series, to discuss the books, and to honor the author, Margaret Sutton (1903-2001). The author was born Rachel Beebe and raised in Odin and Coudersport, Pennsylvania. This year, the Judy Bolton weekend activities include:
Thursday, October 10
6:30 PM | Meet in the Westgate Inn lobby, then enjoy a casual dinner followed by open mic music at Olga's Café in Coudersport.
Friday, October 11
8:00 AM | Breakfast and socializing in the Westgate Inn lobby.
10:30 AM | The Potter County Historical Society Museum will have items related to Margaret Sutton on display all day to welcome Judy Bolton fans.
4:00 PM | Meet and greet reception, Potter County Chamber of Commerce. Wine and cheese reception honoring the memory of Margaret Sutton and her Judy Bolton books. Buy tickets here for lunch during the Saturday tour.
6:30 PM | Farmer's Delight Dinner at a 19th century historic farmhouse built by Margaret Sutton's grandfather, $14, advance reservation requested by October 9, 2019. Call Ilene Altenheim at 814-274-9798 with your name, phone, and number of people attending. Pay at the door.
8:30-10:00 PM | Join us in the Westgate Inn lobby for socializing and series book sales.
Saturday, October 12
9:00 AM-3:30 PM | Tour of the real Judy Bolton sites such as the Farringdon-Pett mansion and the ruins of the Roulsville (Austin) dam. The tour includes lunch at the Austin School. Be ready for surprise guests at the new Eliot Ness museum! Early October is the perfect time to enjoy Potter County's fall foliage!
5:30 PM | Dinner at Kaytee's Family Restaurant, 251 Route 6 West, Coudersport, PA 16915. This is a short walk from our motel. We have a private room reserved.
7:00 PM | Evening activities at Kaytee's. After dinner, an overview of this year's featured book, The Warning on the Window, and presentation of the Susabella Passengers and Friends 2019 Margaret Sutton Writer's Award. Series book sales continue. The highlight of the evening will be the Annual Judy Bolton Trivia Contest about The Warning on the Window. Laughter guaranteed!
Sunday, October 13
If you are staying at the Westgate Inn, enjoy the complimentary breakfast and a last chance to visit with Judy Bolton fans.
For reservations at the Westgate, call early (814) 274-0400, and tell them you are with the Judy Bolton group. A block of rooms has been reserved, with first priority to those who are arriving on Thursday and staying 3 nights. Address: 307 Route 6 West, Coudersport, PA 16915.
Literary Legends of the PA Wilds: Margaret Sutton and Judy Bolton
A great article on Potter County author Margaret Sutton was published January 28, 2019 on the Pennsylvania Wilds website!
The Mystery on Judy Lane by Beverly Hatfield — available this fall on Amazon.
UPDATED: Now Available on Amazon
Judy Bolton loves solving mysteries, and this Christmas brings her a new puzzle to solve. . She is newly engaged to lawyer Peter Dobbs and wants the perfect present for him. But a mysterious eavesdropper, threatening phone calls and broken windows on Judy Lane convince Judy, Peter, and their families that the danger is real. Judy will need bravery and ingenuity to solve the mystery in time for everyone to have a Merry Christmas. Margaret Sutton was the creator and author of The Judy Bolton Mystery series from 1932 to 1967. With the permission of Margaret Sutton's family, Beverly Hatfield brings us this new Christmas story. Foreword by Margaret Sutton's daughter, Lindsay Sutton Stroh.
Author Bio Beverly Hatfield is the co-author of the 2012 Judy Bolton Mystery, The Strange Likeness. As a child, she devoured Judy Bolton mysteries and wished Margaret Sutton had written more books set during the time period when Judy was engaged. Ms. Hatfield decided to fill that gap by setting this book between Margaret Sutton's The Name on the Bracelet and The Clue in the Patchwork Quilt. As an adult, Ms. Hatfield visited the towns and homes in Potter County, Pennsylvania where Margaret Sutton lived and used as her inspiration. Ms. Hatfield enjoys the friendship she has with other Judy Bolton fans and is grateful to share Judy's newest adventure with them. Meet Beverly and get her autograph at Judy Bolton Days 2018 in Pennsylvania!
New: 3 Watercolor Illustrated Cards
By Margaret Sutton
5 X 7 each, suitable for framing
These three color illustrations (1930-31) were done to illustrate the proposed Melissa series, which eventually became the Judy Bolton Mysteries. Rachel Beebe Sutton, the author, who was raised in Potter County, Pennsylvania, was given a pen name, Margaret Sutton, by the publishers. The author also changed blonde Melissa into auburn-haired Judy Bolton, and the rest is history!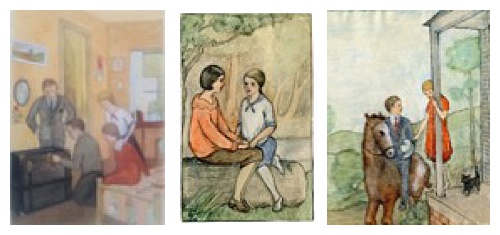 $3 per set of 3 (5 X 7) cards
Add $2 for shipping and handling (USA & Canada)
Payable to Lindsay Stroh, 953 Courtyard Lane, #41
Orlando, FL 32825
Or PayPal to strohlin19@gmail.com
Please note that the picture of Peter with the trunk is brighter than shown.
THE STRANGE LIKENESS, #39 in the Judy Bolton series is available!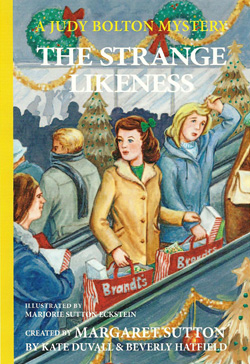 The title and some of the plot elements were created by Margaret Sutton before the series was canceled. Based on conversations with Margaret Sutton and her family plus extensive research, coauthors Kate Duvall and Beverly Hatfield were able to create a new mystery for Judy to solve as she pursues a criminal who resembles her husband.
The book is illustrated by Margaret Sutton's daughter, Marjorie Sutton Eckstein, and edited by another daughter, Lindsay Sutton Stroh. The release of the book was celebrated in Margaret Sutton's hometown, Coudersport, Pennsylvania, during the annual Judy Bolton Days, October 5-6, 2012.
The book has been published in paperback ($14.95) by Applewood Books. A limited number of hardbacks (250 copies) were also available ($24.95). To order your copies, call Applewood Books at 1-800-277-5312 or visit www.applewoodbooks.com.

All 38 Judy Bolton Titles Available from Applewood books!
All 38 of the Judy Bolton Mysteries by Margaret Sutton are now available in paperback from Applewood books. They were laser copied from the first editions of each book, courtesy of the author's family.
Look for them at your favorite bookstore! You can also purchase them on Amazon.com.